Youth Workshops
Makeshop Appalachia, our youth entrepreneurship program, is teaching graphic design, coding, & design-thinking workshops to West Virginia youth to open up a culture of experimentation, creative confidence, real-world design + tech skills, and authorship of your own stories.
In-studio workshops are paused, but our digital workshops are alive and free!
What if we asked our young folk, how might we change the world, starting in your own backyard?
And then, they answered, with light-up butterflies that make their neighborhoods safer, with public art that connects abandoned houses with the homeless, with upcycling, baking, and trans-friendly safe space dreams.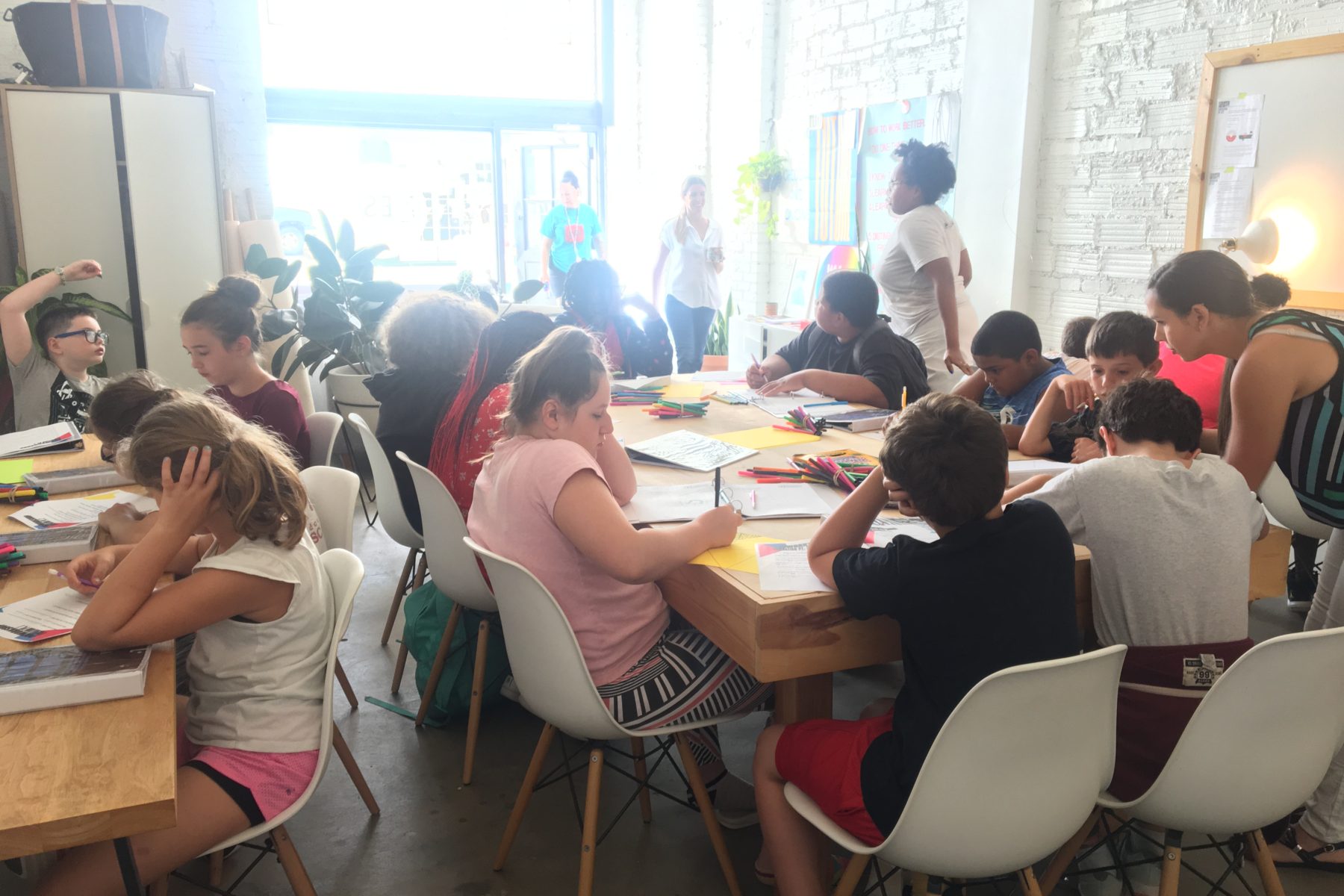 We started with 60 Appalachian kids...
60 Appalachian Kids
50% identify as female
36% identify as POC

48 Workshops Taught
Design Thinking + Ideation,
Graphic Design,
Coding + Tech

23 Mentor Match-ups
Director of Public Art
Director of the Mayor's Office of
Economic and Community Development
TGKVF President and CEO
City Council Officer

4 Jobs Created
Teaching Assistants,
STEM Representative,
Program Coordinator,
AmeriCorps VISTA
service position

6 Partnerships Formed
Boys & Girls Club,
Fun Fitness Kids Club LLC,
Elk City Renewal Association,
Gaddy Engineering,
The Mayor's Office of Economic and
Community Development,
WV Community Development Hub

42 Projects Dreamt
Butterfly Sculpture Public Art
Upcycling
Baking Queens
Abandoned Houses Mural
Public Safety Project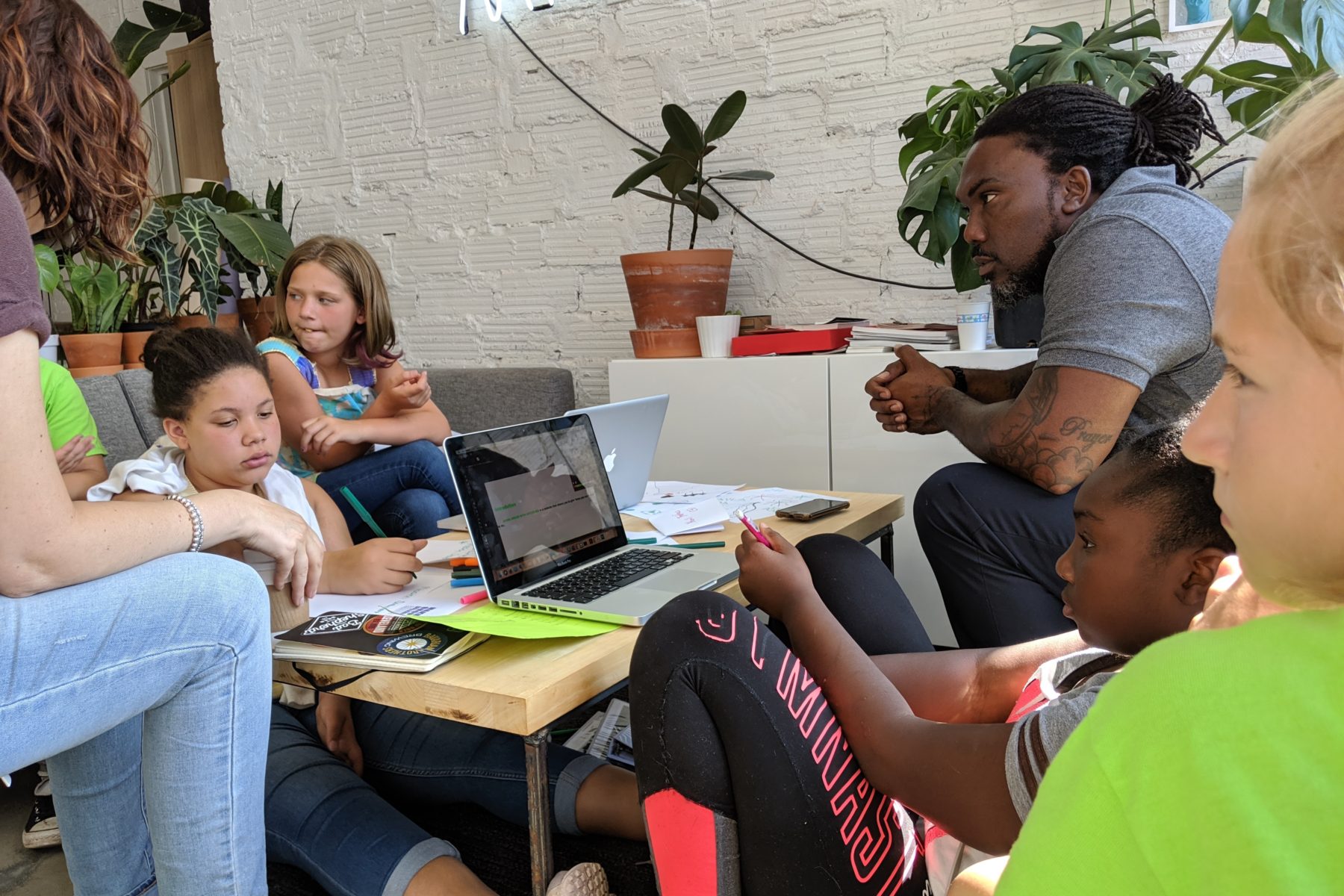 "…what if we just redesigned the whole world? What if all the kids in the whole world could do makeshop?"
–Parker, age 9
Boys & Girls Club cohort, Summer 2019
"I've been taking code workshops at Makeshop since I was 13, and now at 17 I've been able to help plan the workshops future and teach younger kids. I've always wanted to have a tech career but taking the workshops and having a mentor at MESH made it more real and like I could really do it. It was also the first good step in that direction for me. Now I take an engineering class at school and I was told we would learn some coding so what I learned in the workshops gave me a headstart in that class. Overall, being at Makeshop has made me more confident in my abilities, and teaching other kids helps reinforce the things that I've learned so far. I hope I can continue to teach in future workshops, and hope more kids can have the experience I've had at Makeshop to make their tech career dream real!" – Zavian, former West Side resident and first workshop participant, now 17 years old
At the beginning of the workshops, around 23% of participants said they had some goals for themselves. After our pilot program, that number has almost doubled.
In the first year, the number of kids that identify as leaders grew from 23% to 39%. The ones that have ever considered starting their own business has grown from 67% to 83%, and the number of kids that know the word entrepreneurship has more than doubled.
Ready to change your world and explore career pathways and build real-world skills that will help you earn money? Hey guardians, sign your kid up for Makeshop Workshops!
MAKESHOP Workshops are a custom curriculum using world-class design and technology experience from industry leaders like MIT, IDEO, RISD, and more. Hey Teachers, this is for you.
Hey program managers, interested in bringing the MAKESHOP workshops to your school or after school program?
Hey people far and wide, interested in sponsoring a student or a workshop?